Providing a good link between your sales and customer support systems can improve the service you give your customers. What your agents really need is up to date information. This extension for Easy Digital Downloads and Freshdesk provides a FreshPlug that means your agents always have the information they need.
It provides a FreshPlug that automatically shows on Freshdesk ticket screens, and lists customers' recent orders so you can see what items they've ordered and when. You can link straight from Freshdesk back to the order within WordPress if you need detailed information.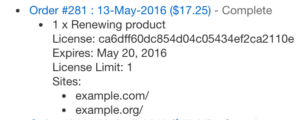 The information also integrates with the Easy Digital Downloads Software Licensing extension to show relevant license information alongside purchases, including the license code, status, expiry / renewal date, and the list of licensed sites.
Setup is easy – simply copy and paste the dedicated FreshPlug code from the plugin settings into your Freshdesk account and you're off.
Reviews
Simple plugin that does exactly what it says. Now we can get all the purchase information from customers directly in freshdesk without needing to search in EDD within WP
Great plugin! did exactly what I needed what more could you ask for.
Thanks Lee!
Write a Review
---
TAG : CRM, Customer support, freshdesk, Helpdesk
CATEGORY : Easy Digital Downloads, WordPress