by Lee Willis
Setting up the Easy Digital Downloads plugin is a simple 2-step process.
1. Configure the sharing options you want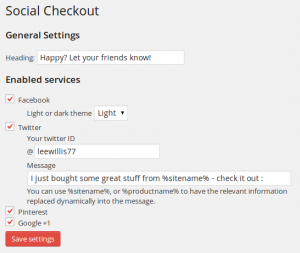 Head to Downloads » Social Checkout. You'll see the config screen. Here you can select the services that you want to promote at checkout.
Simply choose the main heading, then tick the services that you want your customers to share to.
Each service has its own options – simply fill in the details and save the settings when you're happy. You can come back at any time and change the services, or their options as you want.
2. Add the shortcode to your Purchase Confirmation page in WordPress
Head into your WordPress admin area, and find your Purchase Confirmation page. Simply edit this page and add the [edd_social_checkout] shortcode.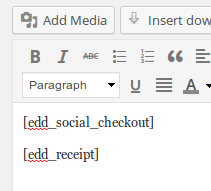 You're done!