Generate more traffic
The Social Checkout for WooCommerce plugin lets your customers spread the word about their order. Generate more social interest and traffic for your store.

This easy-to-use plugin does what it says and the support is the best I've received in a long time. I've already started using the plugin for my client websites and will continue to refer Social Checkout to anyone I know that uses WooCommerce. Great work!
Your WooCommerce checkout will show social sharing links and buttons letting customers:
like your products on Facebook
tweet about their order on Twitter
pin their items on Pinterest
share it via Google +1
Sharing links at checkout
The social sharing links show on the transaction results page right after checkout. There's no barriers to receiving the order. You'll be encouraging your users to spread the message while it's fresh in their mind.
The plugin supports Facebook, Twitter, Pinterest and Google+ – your customers can share on their favourite social network.
Sharing links in My Account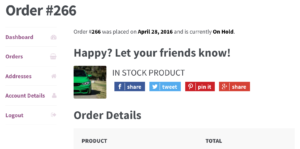 The social sharing links will also be included when customers view their order within the WooCommerce My Account area. Keep reminding users to share their purchase with their friends.
Customisable
With a simple setup, you can choose a dark or light theme, and set the button type for the Facebook buttons, set your twitter account details and specify a default message for the twitter links.
The plugin comes with a ready-to-go stylesheet to set up a clear layout of the sharing options. The markup is also complete with CSS IDs and classes so the output can be styled further if you want to make it integrate closer with your store.
Social Checkout Demo
---
TAG : e-Commerce, Facebook, Google Plus, Marketing, Pinterest, Twitter
CATEGORY : Featured, WooCommerce, WordPress